ZEISS On Your Campus Truck Tour 2022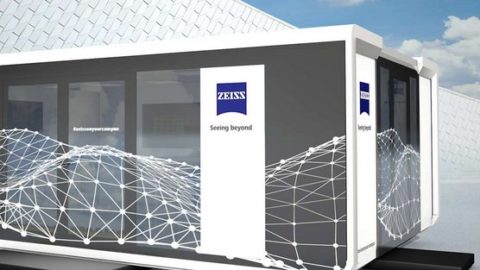 A special scientific event, the "ZEISS On Your Campus Truck Tour 2022", will make a stop in Erlangen at IZNF on 03.-04. of November 2022.
Zeiss will set up a showroom next to IZNF building and Zeiss experts offer individual live demonstrations on-site or remote sessions for various microscopic and optical measurements techniques (e.g., LM, SEM, CT, in-situ, …) which can be booked via this reservation link or if slots are still available even spontaneously on-site. During this event, you can get hands-on experience on practical workflows, in consultation with Zeiss also on your own sample systems, or rather inform yourself about current and new techniques. Special emphasis during the event lies in correlative microscopic and measurement techniques. Besides the fixed time slots for reservations, the showroom will also be open for everybody on Thursday, 3.11, 1-2 pm, and on Friday, 4.11, 1-3 pm.
This will be a unique experience with experts and anyone interested in the event is highly welcome to join, best to reserve a time slot by the registration link above.
The map below (adopted from Google Maps) shows the location (Cauerstr. 3, 91058 Erlangen) of the event.